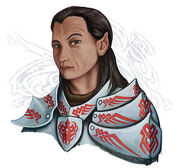 Baron Trelib d'Medani (NG male half-elf rogue 7/master inquisitive 2) of Wroat is the current patriarch of House Medani and a long time friend of King Boranel. This comraderie often causes the house to be more open and favorable with Breland than with the other Five Nations. Trelib has obtained some amount of personal fame by being put in charge of uncovering who assassinated King Boranel's first wife, Queen Chaseva. Though those close to him claim that Trelib is completely devoted to the task but his lack of success thus far has put some in doubt. Trelibs close relationship with the king of Breland may make some outside the house and Breland itself a bit upset, internal strife has also began to surface as well. There are those who claim that Trelib uses his friendship with King Boranel to his own end and to that effect has placed secret Medani agents in positions throughout Breland, some even say he has units within the Kings own Dark Lanterns.
References
Edit
Dragonmarked. Keith Baker, Ari Marmell, Michelle Lyons and C.A. Suleiman (2006). Wizards of the Coast. ISBN 0-7869-3933-8.
Ad blocker interference detected!
Wikia is a free-to-use site that makes money from advertising. We have a modified experience for viewers using ad blockers

Wikia is not accessible if you've made further modifications. Remove the custom ad blocker rule(s) and the page will load as expected.